My my, time certainly does fly. It's already the end of 2017, and what a year it has been. It was a milestone year for me because I once again went full time with my photography business. Freelance photography had been a part time thing since uprooting myself from the Philippines and moving to South Korea. However, this year I decided to go back to doing what I love full time. That decision has brought me to many new places and has allowed me to meet wonderful clients, as well as growing and strengthening my professional network. More importantly, it has also given me more time to take photos for my own projects. 2017 has been amazing and I'm truly grateful. See more details of my year in my year in review.
Now, on to the main topic of this blog post. Followers of my blog know that I have a year-end tradition of picking my Top 10 favorite images from the past twelve months. This will be my fourth year to do it, and I really enjoy the process of looking back and choosing what I think is my best work of the past year. The choices are purely subjective and they can be based on anything from aesthetic qualities to pure emotional attachment to the image. This process is a look back at where I was photographically over the past year and it serves as a great starting point for the year to come. Without further ado, here are my top 10 images of 2017 in chronological order:
"Selection"
Sham Shui Po, Hong Kong
Fujifilm X-T1 + XF 35mm f/2.0
I have said time and again that Hong Kong is and will always be one of my top places to photograph in the world. Vibrant and energetic, it is truly a street photographer's paradise. This image was taken while I was out shooting in the bustling markets of Sham Shui Po with my HK-based friend Jackson Hung. Chinese New Year was around the corner and vendors were selling lanterns and other decorations to celebrate the occasion. Here we see a vendor helping a customer choose her purchase. I love the moment and gesture in this image, as well as the warm and cool contrasting colors.
"Walk Amongst Royalty"
Gyeongju, South Korea
Fujifilm X-T1 + SMC Takumar 28mm f/3.5
Another place I keep going back to is the beautiful and historic city of Gyeongju. Korea's old capital is full of remnants from the past and is widely known as an open air museum. Some of the most distinct remnants are the royal tombs that can be found all over the city. Here we have a man walking among those tombs on a chilly winter day. My favorite aspects about the image is the play of light and shadow, as well as the crossing lines which make a very graphic type of image. Add a human element and peak moment of action and a photograph is born.
"Masan Harbor"
Changwon, South Korea
Fujifilm X-T1 + XF 35mm f/2.0, multi-frame panorama
This cityscape image of Masanhappo-gu in Changwon, South Korea, was taken while on assignment for Seoul Magazine. I was photographing and writing a travel profile of the city, and this was the last shot of the day. It was a bit of a climb to get to the lookout point, which makes the end-result even sweeter. Visibility was very good that day and in this image, you can see as far as Geoje-do and the bridge to Busan. I love the contrast between the small houses and the high-rise apartments. The presence of industrial areas, land reclamation, and impressive bridges among the mountainous landscape completes what I feel is a nice bird's eye view of the development going on in South Korea today.
"DDP+I"
Seoul, South Korea
Canon 5D Mark II + EF 24-70mm f/2.8
The Dongdaemun Design Plaza in Seoul has become one of the city's most recognizable landmarks. It's futuristic design and powerful curves make for great photographs. However, the high volume of foot traffic can make it challenging to get a simple and clean photograph there. The past couple of times I visited the DDP, I challenged myself to get lone figures going through the space. I've been able to make a series of photos based on this challenge, and this is my favorite one by far for it's composition, simplicity, sleekness, and of course that human element. I also think the black and white treatment adds to that sleek and simplistic look I was going for, removing any distracting colors from the frame.
"Overtime"
Busan, South Korea
Canon 5D Mark II + EF 24-70mm f/2.8
This image of a fishwife working late into the night is one of my favorites from a series of images I took at Jagalchi Fish Market in Busan. Most of the market was empty, but a few souls were braving the darkness and the cold to sell their wares. Was it their perseverance and tenacity, or did I just connect with their solitude? Who knows. But I'd love to go back there again another night. The dramatic light and shadow of this image, as well as the fishwife's gesture and expression puts it into the top 10.
"Soju Cowboys"
Tongyeong, South Korea
Fujifilm X-E1 + XF 18mm f/2.0
Once in a while, I just like to take the afternoon off from editing or admin tasks to take a walk in downtown Tongyeong. There's always something going on and the light gets absolutely gorgeous there in the afternoon. I was testing the classic Fujinon XF 18mm f/2.0 lens for a review when I came across this scene. I loved getting down low and so close to the action. The empty bottles of soju and the swagger of the old men who drank them made for an interesting street scene. I especially like how the wide angle makes them seem larger than life while keeping a lot of the surroundings visible. The use of black and white and silhouette adds a bit of mystery as well.
"Everyday Musicians"
Tongyeong, South Korea
Fujifilm X-T1 + XF 16-55mm f/2.8 + Godox AD200
This year I also started "Everyday Musicians", a portrait series with local musicians. My friend and guitarist Jackson was the first subject in the series. A Tongyeong native and resident from birth, Jackson chose an idyllic coastal location for his portrait. This setting is truly representative of the town's maritime heritage. Watching the weather forecast carefully, we scheduled the shoot early one partly-cloudy morning. With his favorite guitar in hand, I asked him to think about why music is important to him and made this portrait.
"Over the Hundred Islands"
Pangasinan, Philippines
DJI Mavic Pro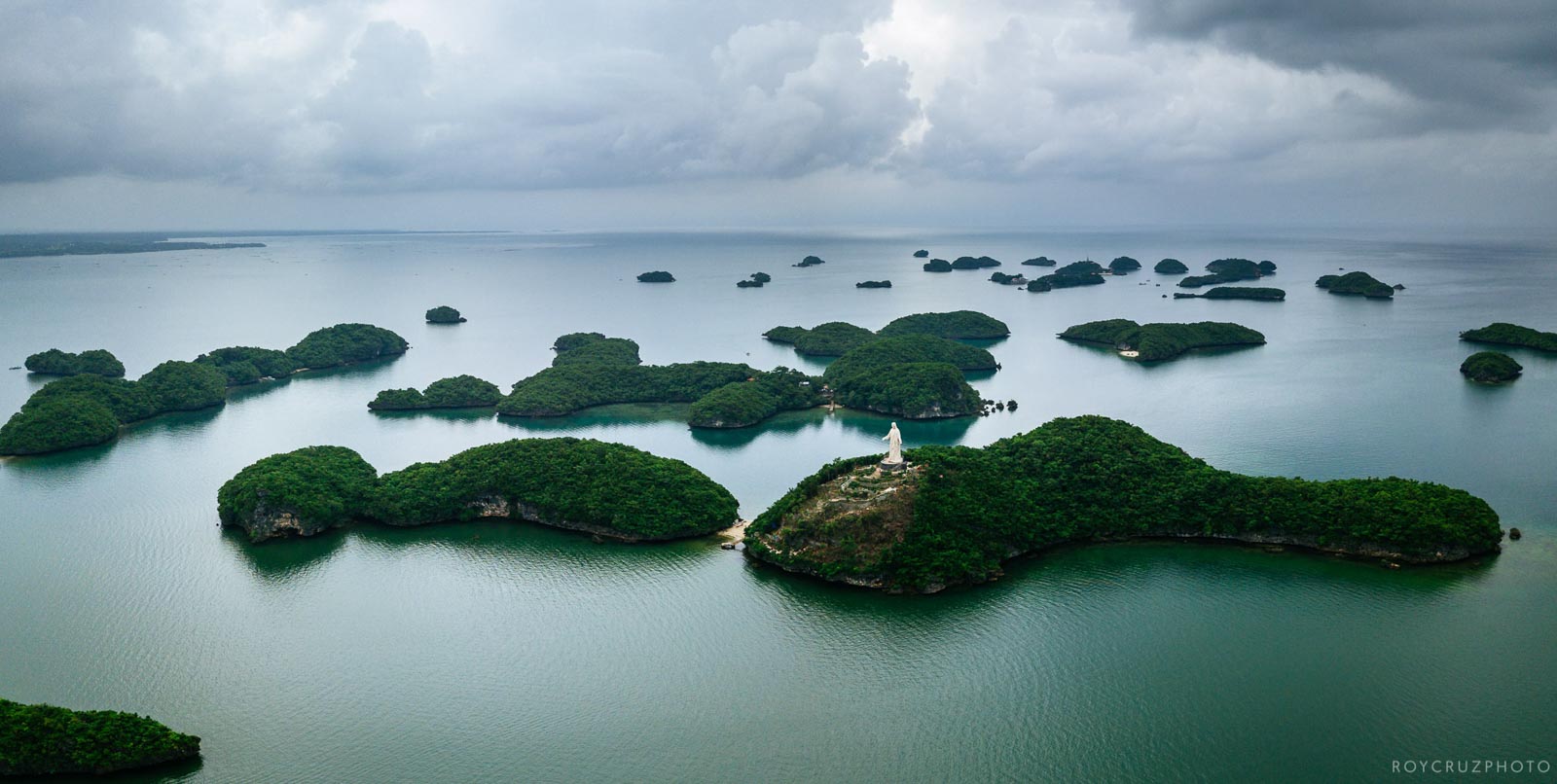 2017 was also the year that my photography took to the air. With the purchase of a DJI Mavic Pro drone, a bird's eye perspective suddenly became more accessible. One of my most memorable drone moments was during a summer trip to the Philippines. The Hundred Islands National Park is great to explore from a rented outrigger boat, but the islands are truly breathtaking when viewed from the air. I literally had to catch my breath and compose myself before I could compose the shot. Flying over the islands was an experience I will never forget. For this image, I used Pilgrimage Island with it's prominent statue as the main foreground element. The weather wasn't excellent, but the overcast day made for some nice even light over the islands. The texture of the clouds adds to the image as well.
"Lighthouse Island"
Tongyeong, South Korea
DJI Mavic Pro
The drone streak continues with this photo. Somaemuldo (소매물도) and adjacent Deungdae Seom (등대섬), literally "lighthouse island" have always been on my radar for landscape photography destinations. Despite the fact that the islands are in Tongyeong, the ferry schedules make it tricky to be at the island during the best light without spending the night there so I've put off going again and again. I waited for autumn when the sun would rise a bit later and took a day trip to the islands. The 1.5-hour ferry ride was followed by a 40-minute uphill and downhill trek across the larger island of Somaemuldo. Once you reach the opposite side of the island, you finally see picturesque Deungdae Seom and the vast sea beyond. I think this photo of the island captures that well. I also like the boats going in different directions around the island.
"Autumn at Uhwajeong Pavillon"
Naejangsan, South Korea
Fujifilm X-T1 + XF 16-55mm f/2.8
In the near-decade I've been living in South Korea, one of my biggest frustrations as a photographer has been my lack of autumn images. Despite living in a country with wonderful fall colors, I've somehow managed to miss photographing autumn year after year. This year, I vowed to change that by going to one of the most iconic autumn destinations in the country, Naejang Mountain (내장산) in the southwestern province of Jeollanamdo (전라남도). My first destination was Uhwajeong (우화정) Pavillon. With its uniquely Korean architecture reflected upon tranquil waters, Uhwajeong is a popular destination for photographers. However, it truly shines in the autumn, when the foliage turns into fiery shades of red, yellow, and orange. It's especially beautiful in the morning, as mist lingers and soft sunrise comes through the valley. For this photo, I deliberately avoided the spot where all the photographers were and went off to find my own angle. I found a little spot along the lakeshore where I could get foliage, the pavilion, and the reflection in the shot. I also decided to set the camera down low in order to incorporate some of the leaves that had fallen on the ground.
Selfie of the Year: "Looking Out at Lighthouse Island"
Tongyeong, South Korea
Fujifilm X-T1 + XF 16-55mm f/2.8
This is a new category for 2017. I noticed that many times, I'd be too busy taking photos of the scenery (or other people if it's an assignments), that I would forget to take a photo of myself at that location. Missing a selfie during my first trip to the North-South Korea DMZ was the last straw. From this year, I will make it a point to take a (hopefully artistic) selfie whenever I'm at a picturesque location. Note, I unintentionally did this back in 2014, but it'll be a thing from now on. 😀
There you have it. My Top 10 (plus 1) Images of 2017. Thank you for taking this journey with me! I hope you enjoyed viewing and reading as much as I did making the photos. If you are a photographer, I highly recommend you try and put together your own top 10. It's a great learning experience.
As 2017 comes to a close, I feel truly blessed to have photographed in 3 countries and many locations over the past year. Hopefully I'll get to travel to even more countries in 2018!
Thanks again for reading and I wish you all a happy new year!
---
---
You might also like
---