Here we are at the end of 2018. Another year has gone by in what seems like a whirlwind at times, and a snail's pace at others. Nevertheless, it was a great year full of memorable experiences, wonderful people, and thousands of images created. At the end of each year, I like to do a couple of things to reflect upon my year in photography. One is the Year in Review, which focuses more on the work/business side of things and the other is this post you are reading right now.

My Top 10 Photos focuses on some of my images that I liked the most from the past year. It is a purely subjective collection and I will try to best describe why I chose each image. Hopefully those thoughts will be helpful in some way. This is not a countdown and the images will be presented in chronological order. In the end, I hope to come up with a collection of images that represents my personal aesthetic while sharing the thought process behind them.

Earlier this year, I heard a definition of photography that I really liked. I don't quite remember who said it, but credits and kudos to them for such a simple but powerful definition:

"Photography is basically light, composition, and moment."

For me, this is such a great way of analyzing photos. Let's keep this in mind as we proceed with my Top 10 Photos of 2018.
Morning Routine
Tongyeong, South Korea
Fujifilm X-H1 + XF 16-55mm f/2.8

For me, this is a great representation of my home city in Korea. This image combines the beautiful morning light with a panoramic view of the city, as well as traditional Korean colors and architecture. I love the moment here with the elderly man's clenched fists during his exercise routine and the extra details of his coat, hat and glasses in the foreground.
Dongjeong Lake Reflections
Hadong, South Korea
Fujifilm X-H1 + XF 16-55mm f/2.8

Taken while on assignment for Seoul Selection, finding this beautiful scene was actually a happy accident. My mom was along for this trip to Hadong and we were actually headed to another spot. I literally yelled out in excitement as out of the corner of my eye, I saw this closed off area of Dongjeong lake with beautiful trees and a pristine reflection. The traditional Korean structure was the icing on the cake. Soft morning light lit the scene from the side, bringing out just enough texture while the shadow areas kept the dramatic silhouettes intact. Wanting to maximize the mirror-like reflection, I pretty much broke the "rule" of thirds and emphasized the symmetry of the scene. Minutes later, the light became too harsh, the wind picked up, and the reflections were gone.
Walking Through Bukchon
Seoul, South Korea
Fujifilm X-H1 + XF 16-55mm f/2.8

Bukcheon Haneok Village is undoubtedly one of Seoul's most iconic areas, for better or for worse. For most of the day, it is filled with tourists searching for the perfect selfie among the traditional houses. It can be tricky to get a clean shot with all the foot traffic, construction, and cars parked in the street. I was quite lucky this particular morning and had none of those complications. The beautiful morning light brought out the textures and Seoul's pollution also provided a bit of separation for the Seoul tower in the background. I waited a few minutes for the right moment, which came in the form of a lady walking in front of a bright white wall for a nice silhouette. All these elements put together make what I think is a very Seoul image.
Modern Family
Dongdaemun Design Plaza, Seoul, South Korea
Fujifilm X-H1 + Samyang 12mm f/2.0

It's hard to take a bad picture at the DDP. Zaha Hadid did all the hard work and made a futuristic space with lines, textures, and lighting that beg to be photographed. In this shot which made the lead image for a piece shot for Gourmet Traveller Magazine Australia, I used an ultra-wide angle lens to emphasize the the structure's sweeping lines and include its various textures. The staircase and the elements around it lead your eye smoothly into the picture and the lighting makes people nearly silhouette. I also wanted to avoid a pitch black sky so I shot at blue hour. With all the elements in place, it was simply a matter of waiting for the right people to walk through the frame in the right way. The family moved into the frame for perfect silhouettes, down to the little girl's pigtails.
Weekend Han Gang Style
Seoul, South Korea
Fujifilm X-H1 + XF 50-140mm f/2.8

Sometimes beauty can hurt. In this case, it hurt my lungs. This image was taken in Yeouido under the Mapo bridge before a video-making and beer session with my friend Dylan Goldby. The Air Quality Index was at a throat burning 180+, but it made for some beautiful, atmospheric light. The repeating pattern of the pillars disappearing into a vanishing point made for an interesting backdrop for the dynamic action of the boat and wakeboarder. Framing of these subjects by the pillars was also considered. The bright haze outside of the bridge gave some nice separation and put the wakeboarder into a nice silhouette. I'm sure you see a pattern now. Yes, I like silhouettes. 😉
Daraengi Terraces
Namhae, South Korea
DJI Mavic Pro

Drones are truly a gift to photographers. They expand our creative horizons and literally take our images to new heights. This shot of Daraengi Village on the island of Namhae is a perfect use case for a drone, as it shows off the scale and magnificence of the centuries-old rice terraces in a shot that would otherwise be very difficult to get. This birds eye view shows just enough sea and just enough of the mountainside, while the side lighting from the sun brings out the textures of the scene.
As the City Wakes
Seoul, South Korea
Fujifilm X-H1 + Olympus Zuiko 28mm f/2.8 + Tilt Adapter

The success of landscape/cityscape photography is heavily dependent upon natural conditions, which means a lot of research and planning, as well as luck is required to make a good image. I had been up to this sunrise spot at Maebongsan several times with little success. On this morning, however, things came together for a couple of minutes. Sunrise was still not visible, but the clouds parted just enough to give some dramatic light. Visibility was good all the way to Lotte World Tower and the Han River was quite calm, making for some nice reflections. The lights were turning off one by one as daylight crept in, but I'm glad I was able to catch some. I was also testing out a tilt adapter, so I applied a bit of tilt to blur out the foreground a bit and add some depth.
Ladies of Gyeongbokgung
Seoul, South Korea
Fujifilm X-H1 + Olympus Zuiko 28mm f/2.8 + Tilt Adapter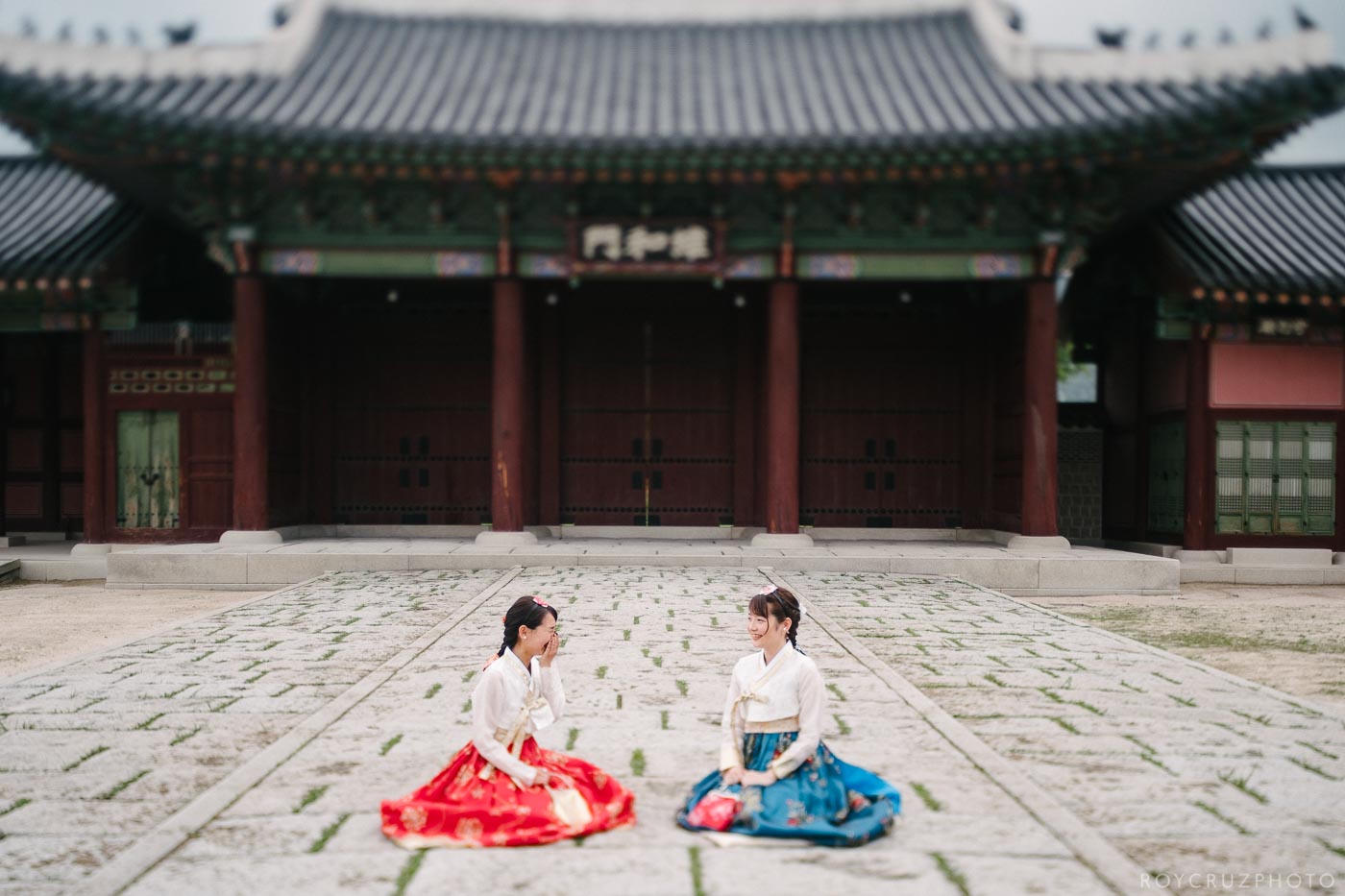 Taken a few hours after the previous photo, this image also made use of the tilt effect to make the subjects stand out. I don't think I would have liked it as much if everything was in sharp focus. The two Japanese ladies had asked to have their photo taken with their phones, so it was only fitting to continue the shoot with a 'real' camera. Their colors of their Hanboks gave a nice contrast and they looked perfect against the traditional background. Out of the several frames that were taken, this natural, in-between moment was my favorite.
Sign of the Times
Bukchon Hanok Village, Seoul, South Korea
Fujifilm X-H1 + XF 16-55mm f/2.8

This image takes us back to Bukcheon Haneok Village, this time in the middle of the tourist rush. The unhappy residents have put up banners protesting the tourist traffic, and I really wanted to capture that in an interesting way. I put an ND filter on my lens and slowed down the shutter to ⅕ of a second. The Fuji X-H1's stabilization enabled this shot even without a tripod. I wanted to capture the dynamic movement of tourists walking in front of the sign, while keeping the most important parts legible to get the message across. After some trial and error, I was able to get this frame. The little hint of sunlight is the icing on the cake.
Haneul Park
Seoul, South Korea
Fujifilm X-H1 + XF 35mm f/1.4

The last photo in this collection is a bit more abstract than my usual, yet I think it fits my dark, dramatic landscape aesthetic. The Haneul Park is lit up like this during the Seoul Silver Grass Festival (서울억새축제) in the fall, and it's a chance to get some colorful and surreal images. I chose the 3 windmills as the subjects (look up "rule of odds in photography"). Fortunately, there were clouds adding texture in the otherwise black sky. The slow shutter and shallow depth of field added some foreground depth for with the silver grass. The lights constantly move and change color, so I had to take several frames to get a good color combination. The warm and cool contrast of the yellow and blue lights was my favorite.

And that's about it! I hope you like my Top 10 images for 2018 and hopefully you picked up some useful information in all my rambling. 😀 Seriously though, thanks for reading! Let me know which one is your favorite, or if you have one that you think should have made it. If you haven't done so already, please also check out my Instagram @roycruzphoto, as it helps let me know what images resonate with you.

Thanks again and I wish you all the best in 2019 and beyond!

---
---
You might also like
---