I've been on the Fujifilm GFX journey for a few months now as I write this, and all I can say is I'm totally addicted. As I mentioned in my GFX 50R Review, it's hard to go back once you've experienced the absolutely stunning image quality that is provided by the large sensor. 
In this blog post, I will talk about the lens I chose to be my first companion on this journey into medium format, the Fujinon GF 50mm f/3.5 LM WR. As a fan of the very versatile 27mm f/2.8 on Fuji X bodies, this lens was a natural choice for me. It actually offers a lot of similar benefits of the 27mm on the GFX platform.





Pros
Compact size – Fuji calls this a "pancake" lens, but it's definitely a bit bigger than that. It's all relative though, and this is the smallest native lens so far for the GFX system. The size makes the GF 50mm f/3.5 easy to carry around.
Versatile focal length – the GF 50mm is the equivalent of roughly a 40mm lens in full-frame terms (with the 0.79x crop factor). 40mm is a very versatile, "perfect normal" focal length that can be used for anything from landscapes to portraits, and anything in between. Overall, it's a great general-purpose lens. I absolutely love it for street, travel, and documentary photography.

Sharpness – like most, if not all native Fuji GFX lenses, the GF 50mm is absolutely sharp. The resolving power of this lens keeps up with the high resolution sensor of the GFX, leaving little to be desired in terms of clinical sharpness. I've found images taken with this lens quite usable even after very aggressive cropping.
Cost – the GF 50mm f/3.5 is the cheapest in the GF lens lineup, which makes it a great first lens for the system. There have even been sales for this lens making it available brand new at half the price. Definitely a deal to look out for.

Autofocus – The GF 50mm f/3.5 has a linear motor which makes for snappy, accurate autofocus. Because the GFX 50R doesn't have phase detect autofocus, I was expecting pretty slow performance in the AF department. However, I'm glad to report that the GF 50mm f/3.5 exceeded my expectations. It's even snappier on newer phase detect bodies such as the GFX 100S.



Cons
'Slowish' f/3.5 aperture – this seems to be the main compromise to keep the lens' physical size down. Everything is a bit bigger and slower when you get into medium format territory, and the lens would probably have been significantly larger if they went with a 2.8 aperture or faster. I find the 3.5 fast enough for my needs, especially since the GFX bodies offer such excellent high ISO performance. In terms of depth of field, the medium format sensor gives the GF 50mm a depth of field closer to that of an f/2.8 on 35mm full frame, so you can still get some shallow DOF when you need some background separation.
Average bokeh – at some focusing distances, the bokeh can get a bit rough and busy. However, I've found it to be okay for portraits and documentary images with people. This would probably not be a good first choice for shallow depth of field portraits or luscious bokeh, but will perform fine in a pinch.
Close focusing distance – another relative weakness of this lens is it's close focusing distance of 55 cm (1.8 feet). I notice this the most when trying to take photos of food or objects. It just can't get quite close enough.to fill the frame and I usually end up cropping into those images. However, I don't think this lens was really intended for macro photography. The MCEX-45G macro extension tube might help if you really need that close focusing distance with this and other GF lenses.



Form Factor
I've always been a fan of simplicity and the idea of a one camera and one lens solution is so attractive to me. This was the thing that initially drew me to the Fuji X100S back then. Now with the combination of the GFX 50R and GF 50mm, it kind of achieves that, but on a slightly larger scale. Yes, it's relatively bulkier, but the overall setup is still compact enough and light enough to carry around on the daily. Plus, you get the amazing image quality that leaves little to be desired.
Does this mean I won't buy any other GF lenses? Probably not. There are just too many good lenses out there. The GF 30mm f/3.5 and the GF 80mm f/1.7 are on my radar for sure. Having a variety of lenses will allow me to enjoy the camera's amazing image quality even more. That being said, I would not hesitate to call this combination my desert island kit for now.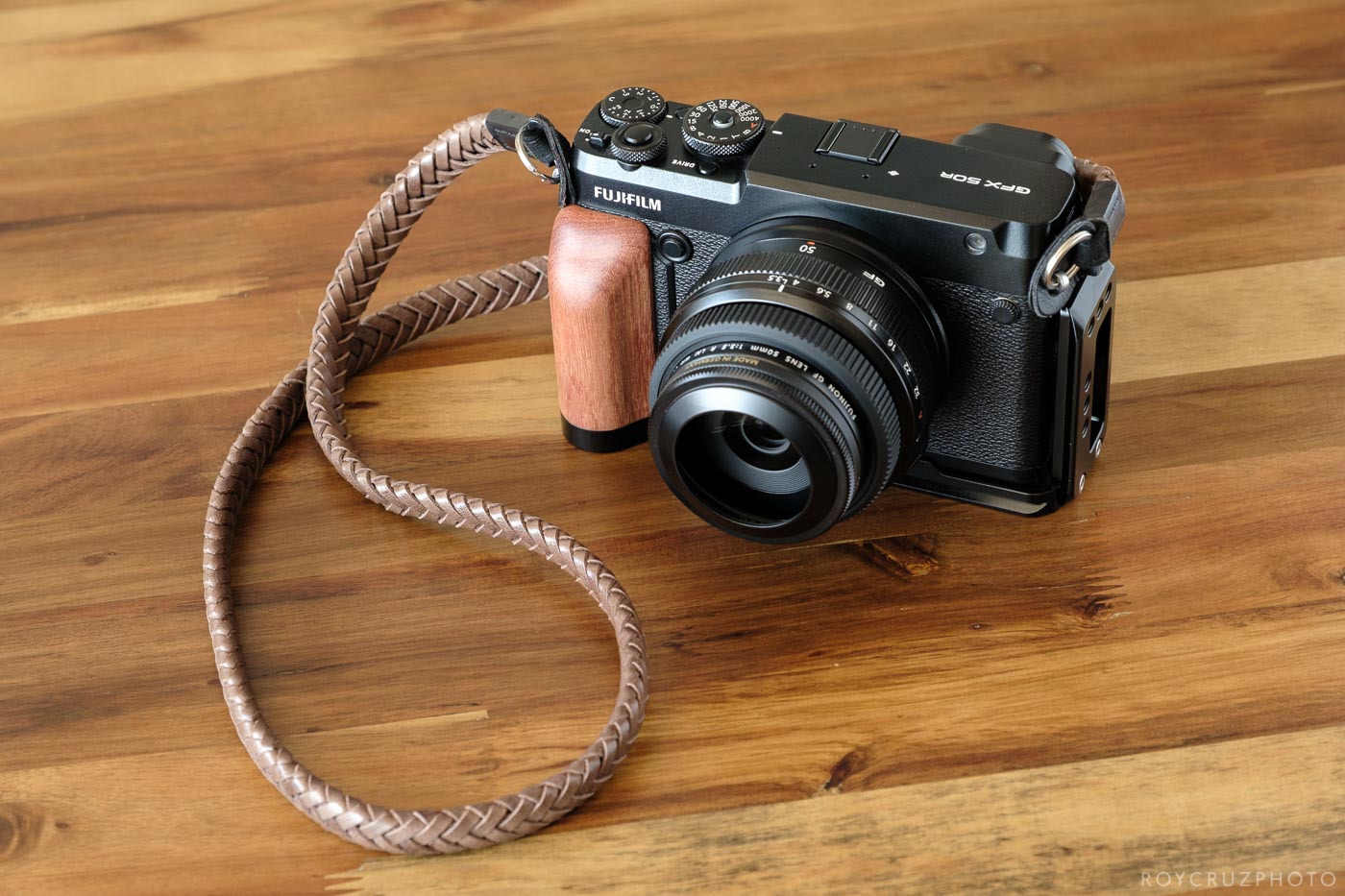 Aesthetics
This may be a bit superficial, but I also love the look of the GF 50mm with the GFX 50R. When I bought the 50R, it came with a bunch of great freebies which included the Smallrig L-Plate with wooden grip. Add a leather strap from Barton1972, and you get a bit of a retro-looking setup. I have always been a fan of older film cameras with a wooden grip, and this kind of reminds me of that. Top it off with the compact metal hood (included) and a B+W 62mm XS-Pro Clear Filter to protect against the elements and you have a weather sealed, grab and go medium format kit that looks pretty cool as well.



Parting Thoughts
The Fujinon GF 50mm f/3.5 is definitely my first recommendation for a compact general purpose lens on the GFX system (2023 update: also check out the GF 35-70mm if you do more landscape photography). It's the smallest, least expensive (so far) native Fuji GF lens with a very versatile focal length. It makes a great first lens for someone wanting to get a taste of GFX quality without breaking the bank. This lens and the GFX 50R have become my go-to kit for travel and street photography and I wouldn't hesitate to go on a trip with just this one lens and one body. Is it a jack of all trades and a master of none? Perhaps, but for the type of photography that I like to do, it's often all I need.



Sample Images

This article contains affiliate links that help showcase the gear and help me out at no additional cost to you. Thank you!
---
---
You might also like