Tongyeong is a city on the southern coast of the Korean peninsula.  Some call it the "Napoli of the Orient", but I prefer the official slogan, "The Land of Sea".  This pretty much sums up the terrain of this charming coastal city and its many islands.
I have lived in Tongyeong for about 8 years now, and have photographed it pretty extensively.  It has so many great locations and to this day, I'm still finding new places to shoot.  To help fellow travelers and photographers get the most out of their trip to the Land of Sea, I'd like to share my top places to do landscape, travel, and street photography in Tongyeong, South Korea.  Let's start with the downtown area and work our way out to the islands.
Mujeon-dong Pier (무전동)
A west-facing pier in the residential and nightlife area of Mujeon-dong, this is a great spot for sunset.
Pyeongnim-dong (평림동)
Pyeongnim-dong's Pyeonginilju road, which winds around the western coast of mainland Tongyeong is the longest way to get to Tongyeong's largest island of Mireukdo, but it is also the most scenic.  There are multiple spots to stop and photograph along this scenic coastal route. Sunset is the best time to come here.
Downtown area / Traditional Markets (통영 시내, 중앙시장)
Going downtown, you will find the busiest part of Tongyeong.  There are several traditional markets here including the popular "Jungang Shijang", or Jungang Live Fish Market, where people come from far and wide to buy Tongyeong's famous seafood.  Right outside the market area, there is a harbor with many interesting sights and even interesting characters.  Come here in the afternoon for the best light.
Dongpirang Mural Village (동피랑벽화마을)
In the downtown area, you will find the picturesque Dongpirang Mural Village.  Once in danger of demolition, artists began painting murals on the walls to attract visitors.  Now it is one of the most popular places for tourists with its winding alleys, restaurants and cafes, and of course murals that are changed regularly.
Seopirang / Seoporu (통영 서피랑, 서포루)
Also near the traditional market area and opposite of Dongpirang is Seopirang.  "Seo" actually means west and "dong" is east, referring to the hillside villages around the downtown area.  On this side, there's also a village and multiple walking paths.  You can also find the west lookout (Seoporu), which used to be a military lookout.
Bukporu (통영 여항산 북포루) 
Completing the set of hills (this one's actually a mountain, Yeohangsan) around the downtown area is the northern lookout of Bukporu.  It's a bit of a climb (path entrance is right outside of Bukshin-dong Cathedral 북신동성당).  It offers a great sunrise and a panoramic view of downtown Tongyeong.
Undersea Tunnel (통영해저터널)
Heading away from the downtown area, we come to the Tongyeong Undersea Tunnel.  Completed in 1932, this is Asia's first submarine tunnel.  It is one of three ways to cross the Tongyeong canal to Mireukdo Island.  This place is great for street and silhouette photography.
Tongyeong Canal
The Tongyeong Canal was also built in 1932 during the Japanese occupation.  This canal separates mainland Tongyeong from it's largest island, Mireukdo.  There are scenic views on both sides of the canal and it's a great place to explore and photograph.
Tongyeong Bridge and Chungmu Bridge (통영대교, 충무교)
Aside from the undersea tunnel, the other two ways to cross over to the island of Mireukdo are the Tongyeong Bridge and Chungmu Bridge.  The Tongyeong bridge is the larger of the two, and is a popular bridge to photograph in Tongyeong.  The Chungmu Bridge is quite a bit smaller and typically serves as a viewpoint to see the larger bridge and canal.
Marina Area (통영 해양스포츠센터, 국제음악당, 금호마리나리조트)
On Tongyeong's largest island of Mireuk-do is an area known for the city's culture, sports and tourism efforts.  There is a Marina area for yachting competitions, a large open area Tongyeong ITU Triathlon, a concert hall for performances like Tongyeong International Music Festival TIMF, and the well-known Kumho Marina Resort.  It's a great place to walk around and enjoy the various sights.  This east-facing area is of my favorite sunrise spots.
Tongyeong Cable Car and Mireuksan (통영 케이블카, 미륵산)
Another one of Tongyeong's most popular tourist sites, Mireuksan (or Mt. Mireuk) can be climbed on foot or by cable car.  Go for wide panoramas, zoom in on the cityscape, or simply enjoy the gondola ride.
Lighthouse Fishing Park (통영 낚시공원)
Fishing is a popular pastime in this area for obvious reasons, and the Lighthouse Fishing Park is a great place to do that.  For photographers, it is a great place to shoot the sunrise.
Miraesa Temple (미래사)
On the slope of Mt. Mireuk are several temples.  One of the temples I visit regularly is Miraesa.  The picturesque pond, simple yet beautiful temple, and the nearby forest are all great reasons to come here.
ES Resort (클럽이에스리조트)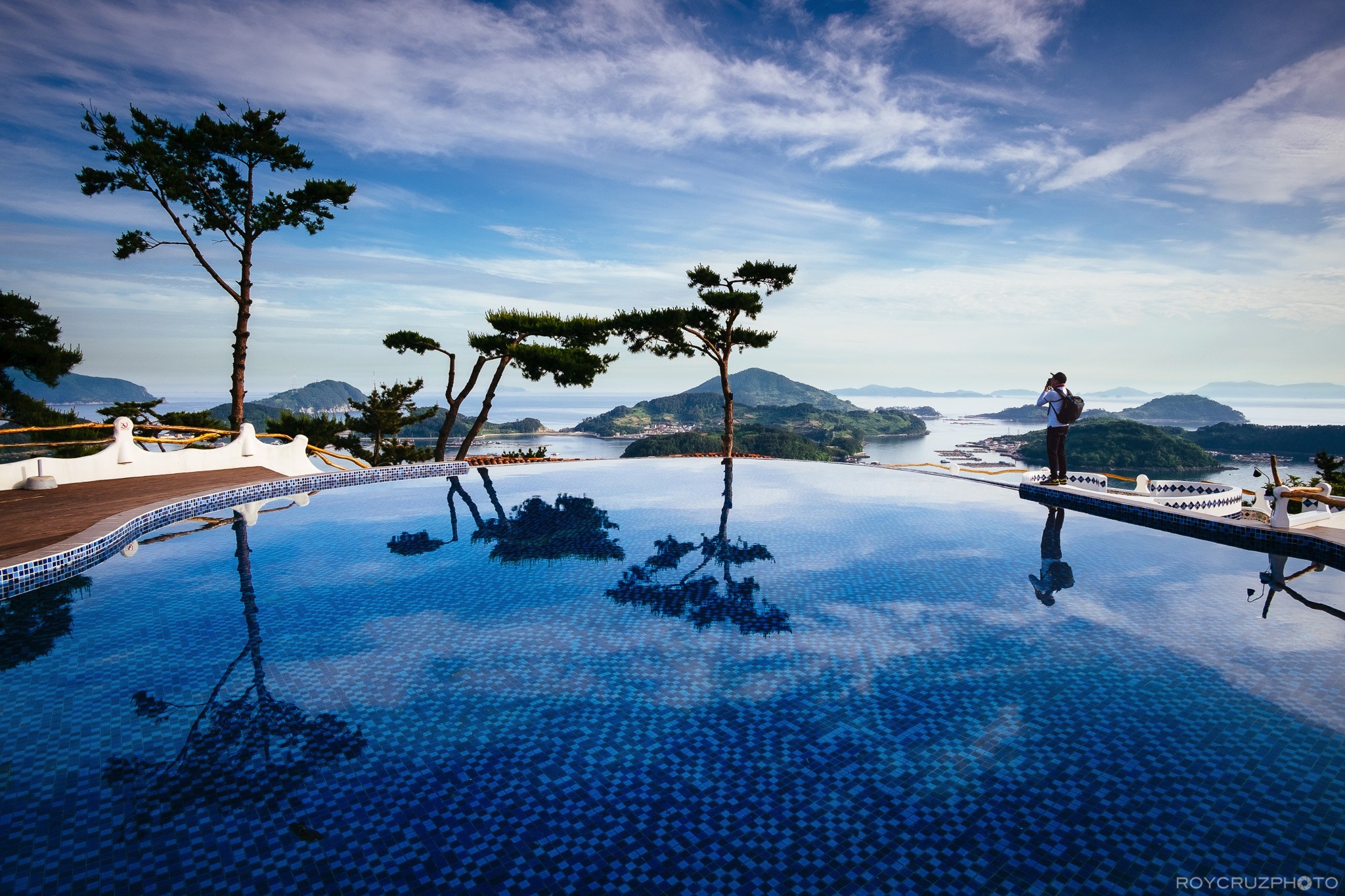 The ES resort is a resort hotel and restaurant.  The main attraction here is the infinity pool and island view beyond.  This is an afternoon and sunset spot.
Dara Park (달아공원)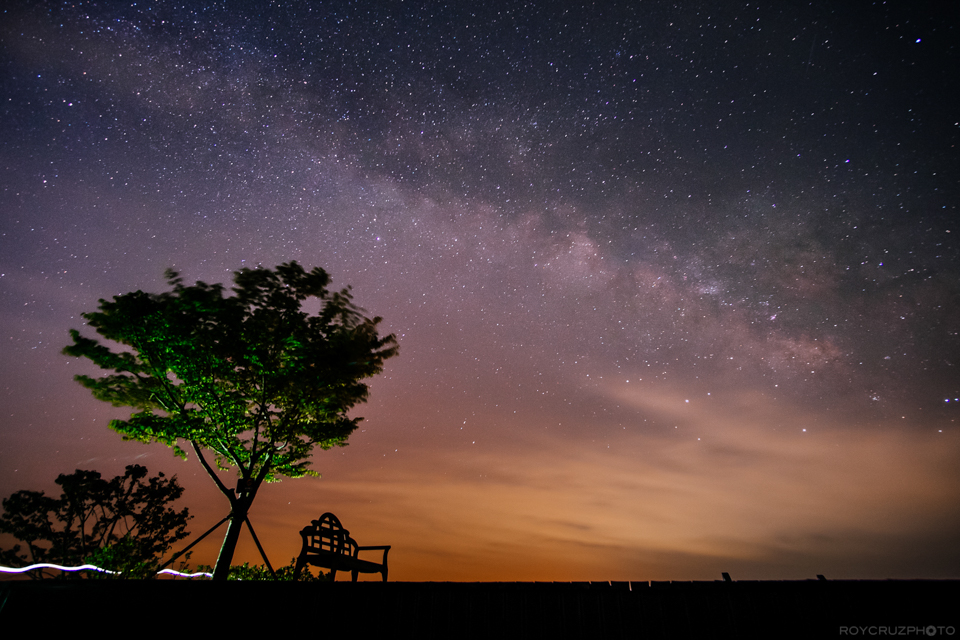 This south-facing park on a cliff offers a great panoramic view of Tongyeong's southern islands and islets.  It is a popular place for visitors to view the first sunrise of the year.  Sunset is also beautiful from this spot.  However, my personal favorite photo taken here is a photograph of the milky way.  Taken on a clear summer night, Dara Park proved to be a dark enough spot to do astrophotography.  Recently though, they have added street lights to the area, which make star photography more difficult.
Sanyang-Eup (연화리 산양읍)
In this area, you will find several fishing villages and piers.  It is a popular spot for casual fishermen, as well as people who run fish, octopus, and oyster farms.  This area offers great sunset views as well as picturesque seascapes.
***The following section covers the islands of Tongyeong.  To get to these areas, you must take a ferry from the Tongyeong Ferry Terminal (통영 여객터미널).  Check ferry times on the Tongyeong City Homepage.
Somaemuldo and Deungdaeseom (소매물도, 등대섬)
Beyond mainland Tongyeong, you will find several large islands which are popular places to visit.  The most well-known island is probably Somaemuldo and the adjacent Deungdaeseom.  Famous for it's rocky cliffs and picturesque lighthouse, Somaemuldo is a popular destination for visitors, despite being more than an hour-and-a-half ferry ride away.
Hansando (한산도)
Hansando is an island of historical significance.  It is where Admiral Yi Sun-Sin won a great naval battle during the Imjin war using his famous turtle ship.  Hansando is a 30-minute ferry ride away and features picturesque forests, seascapes, and a pebble beach.
Other Islands
Other islands such as Yeonhwado, Bijindo, and others are also great destinations for tourists and photographers.  I have not personally explored these areas yet, but I will be sure to update this post once I do!  The above photograph was taken with a telephoto lens from a boat heading to Somaemuldo.
Map
For further reference, here is a map of all the areas discussed in this post, listed in order of appearance.
I hope you find this post helpful.  Tongyeong is truly a beautiful place to visit and photograph, and I'm proud to call it my home in Korea.  As I said before, I'm still discovering new places to photograph in Tongyeong.  I will be sure to add them to this post as I do!
---
---
You might also like
---