This past summer I took a one-month trip back home to the Philippines. It was a great time for family, friends, and travel. But I also wanted to do a little work while I was there. Sometimes the opportunities to make new work and expand your network don't stop, even on vacation.
I had the chance to work with Sophie's gourmet, a start up company based in San Pablo City. They specialize in making gourmet bottled sardines as well as other types of fish. Their marketing manager, Dharyll first contacted me via Facebook. They had seen my food work on Instagram and was interested in working together. At first, there were talks about sending the product to me in Korea, but that didn't pan out. When we decided to go home for the summer, it was a perfect chance to make this shoot happen.
For this project, I was given full creative freedom to photograph and style the food the way I wanted. I received several bottles of their products, and got to decide on the types of dishes that I would make. Based on the types of fish and the flavors I was given, I decided on a baguette dish, a salad, a Filipino style rice plate, and some pasta.
But before that, I wanted to start with some product shots on a white background. I set up a white paper background couple of lights on either side of the bottles and went with the clean and simple set up.
And here are some of the product shots. I really like their use of the traditional Filipino material on the lid of each of bottle.
After the product shots, I proceeded to prepare my dishes. I kept the lighting simple with a large soft box from the side/rear and a reflector opposite of that.
The first dish was Sophie's Hot and Spicy Smoked Sardines on toasted baguettes. I decided on a wooden surface for an organic feel. I also chose different types of placemats, which is a great way to add color and texture to your food photos. I also love to use the right ingredients as elements of the photo, so I included peppers, baguette loaf and some slices in the background. Garnishes are also very important for enhancing food photos. Greens and reds, such as the peppers and basil used here, really add to the picture.
Next up was the salad. Since the product was Sophie's Lemon and Garlic Tawilis (a Philippine freshwater sardine), I thought the flavors would go well in a salad. Using the vegetables I could find at the supermarket and in our kitchen, I aimed for the most color that I could get. Lettuce, cucumber, tomatoes, red onion, lemon, and hard-boiled egg made for a nice combination of colors. One regret that I have with this shot is not including the purple edible flowers we had picked from my mom's garden. I had simply forgotten them in a corner and was not able to use them. Silly me.
Again I used the raw garlic and the remaining lemon outside elements in the shot. Changing the placemat but using the same wooden surface also differentiates, yet keeps the photos cohesive. The shot was also particularly challenging because the Tawilis is very fragile.
The next dish is a very Filipino one. "Silog", which means "sinangag" (fried rice) and "itlog" (egg), is a ubiquitous meal all over the country. Breakfast, lunch, or dinner, silog is eaten at any time of the day. The types of silog are also endless. You can basically make anything -silog. In this case I decided to use the Sophie's Spanish Style Bangus (milkfish). This "bangsilog" was some of the best I'd ever tried. For this shot I decided to go with the bare wooden surface and a fun sea-themed plate.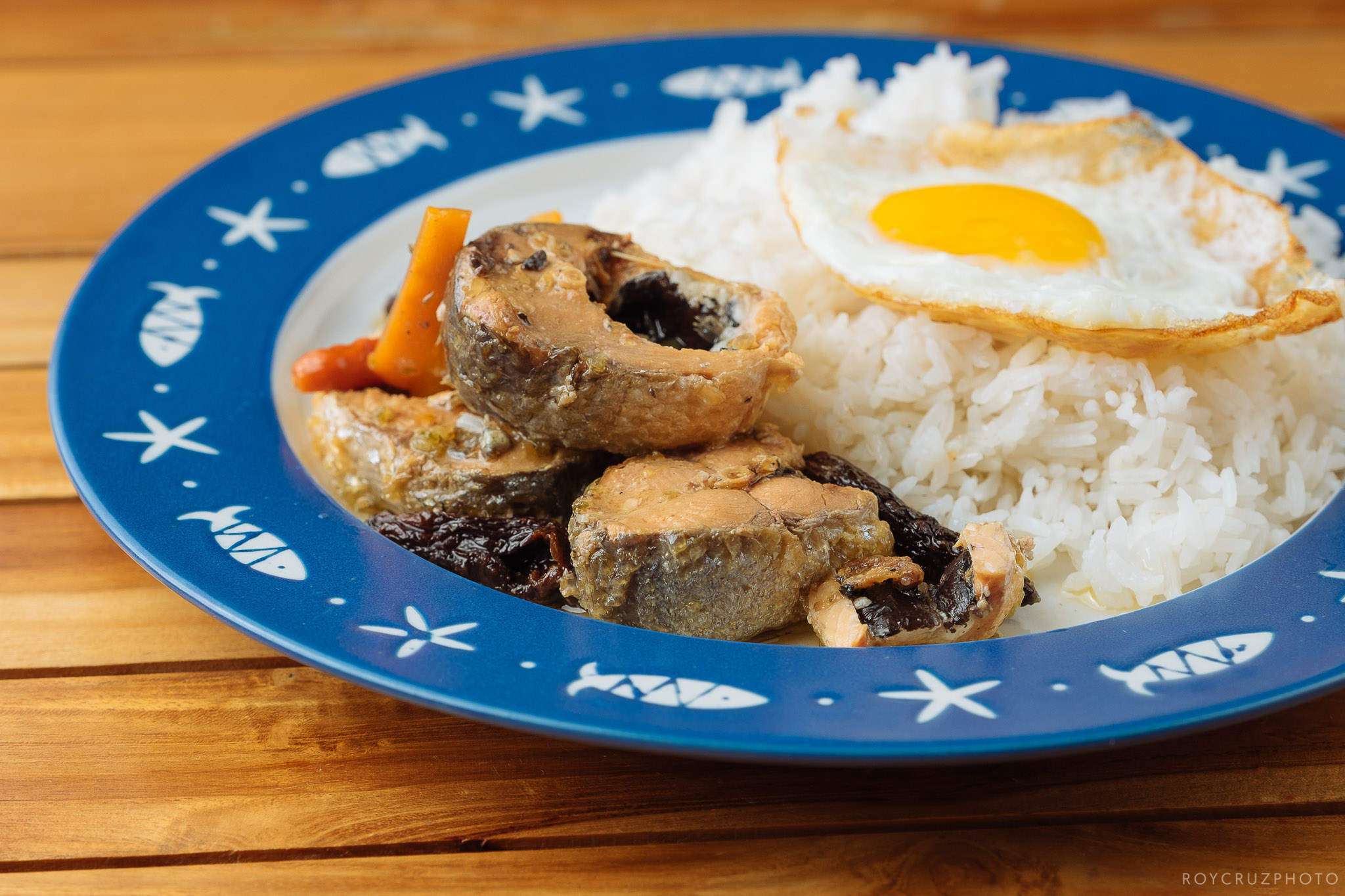 After a brunch break with the previous dish (another great benefit of food shoots), I proceeded to make the final dish of the shoot. From the beginning, I knew Sophie's herring With Pitted Capers and Olives would be a great pasta dish. I cooked up some Aglio Olio (olive oil and garlic) pasta and topped it with the Herring. Again bit of green basil and red pepper garnish and the photo was complete.
Overall, it was a great shoot. It was actually kind of tough being cook, food stylist, and photographer. I do it a lot for my food Instagram, but doing multiple dishes one after the other was quite the task. I learned a lot though and both the myself and the client are happy with the images.
The best part of course, was eating the food afterwards. Me and my family really enjoyed all the products. I definitely recommend Sophie's Gourmet for delicious meals and snacks that are simple to prepare.
Get in touch with Sophie's Gourmet via their Facebook Page.
And if you need a food photographer in the Philippines, South Korea, or worldwide, please do get in touch with me!
For more food photography tips, please check out this post.
Thanks for reading. Cheers!
---
---
You might also like