Hello again, folks!  I'm back with part 2 of my year in review for 2015.  As I mentioned in part 1, I believe doing a yearly retrospective is a good exercise for photographers to help gauge your progress and serve as a starting point for the year to come.  It also helps to share your learnings and thought process with other photographers, as well as show your best creations of the year in one place.  By the end of the exercise, you should have a good overview of the past year and be able to compare it to the year(s) before. Hopefully, you will feel that you have gotten better.
Part 1 of my year in review was more about commissions and projects I did in 2015. Part 2 will focus on my personal images.  These images are of the travel/landscape category, which is mainly what I like to do when I'm shooting for myself.  The criteria for choosing these photos were not very stringent, and they are basically my personal favorites.  Of course, light, color, texture, gesture, composition, etc, were all factors in choosing the photos.  I also considered the set as a whole, and tried to show a good variety of images from the year.
Let's get the ball rolling.  Here are my top 10 images of 2015, in chronological order:
"Volcanic Coastline at Dusk"
Jeju Island, South Korea
Fujifilm X-E1 + Samyang 12mm f/2.0, Cokin ND filter
f/11, ISO 200, 20 seconds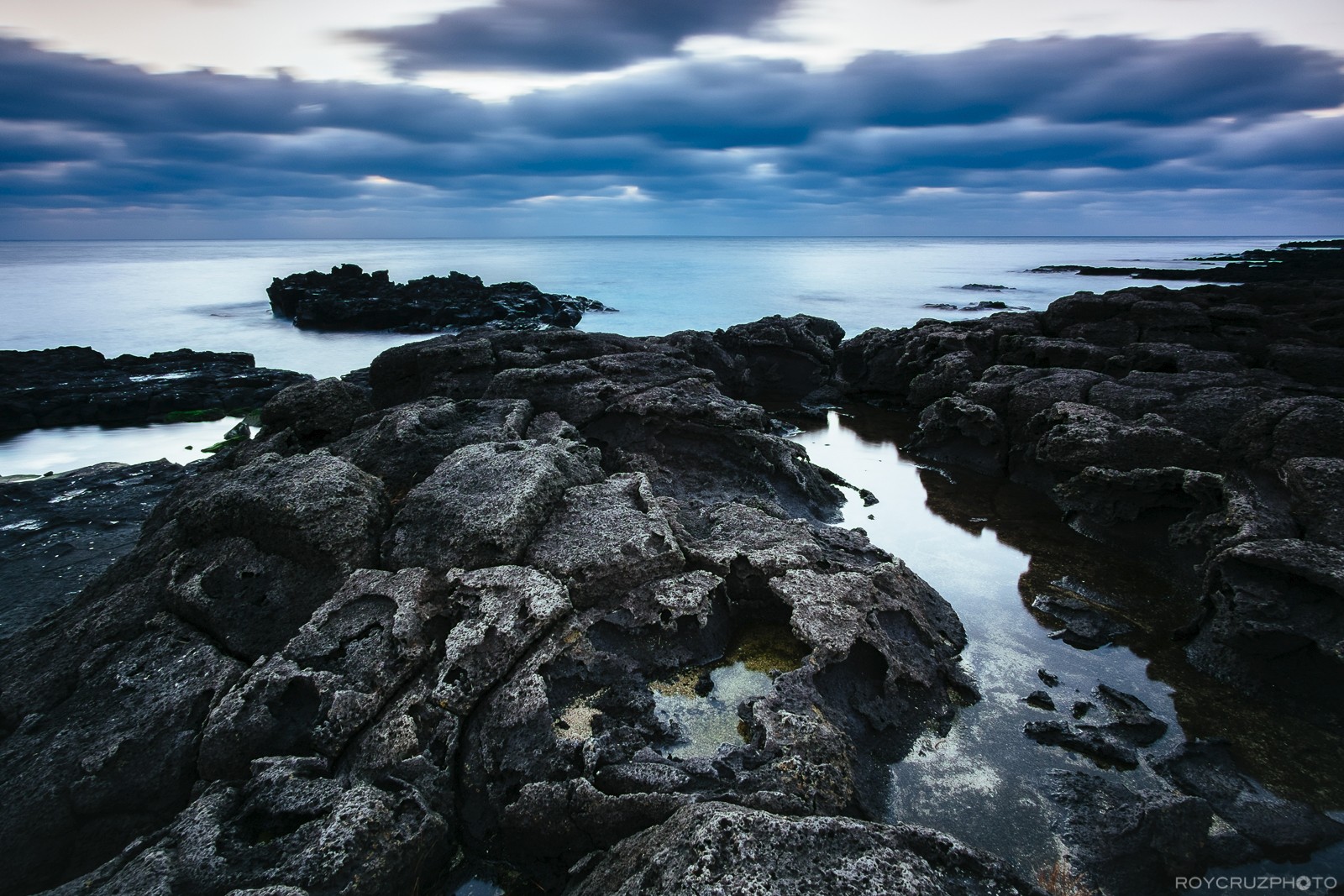 Jeju Island's volcanic rocks and beautiful landscapes make it a prime destination for photographers.  I was lucky enough to start 2015 with a family trip to Jeju.  This particular shot was unplanned.  The original intention was to go to the west coast to catch the sunset.  However, the conditions were very cloudy and we were quite behind schedule, so we decided to turn back.  On the way, we drove by a wonderful volcanic coastline and I just had to stop to take this photo.   The cloud movement was perfect for a long exposure and the stream of water in the rocks made for a nice leading line.  Lesson: even if one idea doesn't work, always be open to other opportunities that present themselves along the way.
"You and Me on Windy Hill"
Geoje Island, South Korea
Fujifilm X-E1 + Samyang 12mm f/2.0
f/11, ISO 400, 1/200 sec
I've always had a thing for silhouettes.  In 2014, I began to incorporate them more into my landscapes and I continued to do so in 2015.  I love a good "traditional" landscape photo, but sometimes adding a human element will make a photo complete.  In this photo of Geoje's Windy Hill, including the couple added a bit more romance and drama.  I had to wait a bit, but all the other people eventually left and the couple got into a position where their silhouettes were clearly defined.
"The Sea Snail Vendor"
Geoje Island, South Korea
Fujifilm X100S
f/2.8, ISO 400, 1/240 sec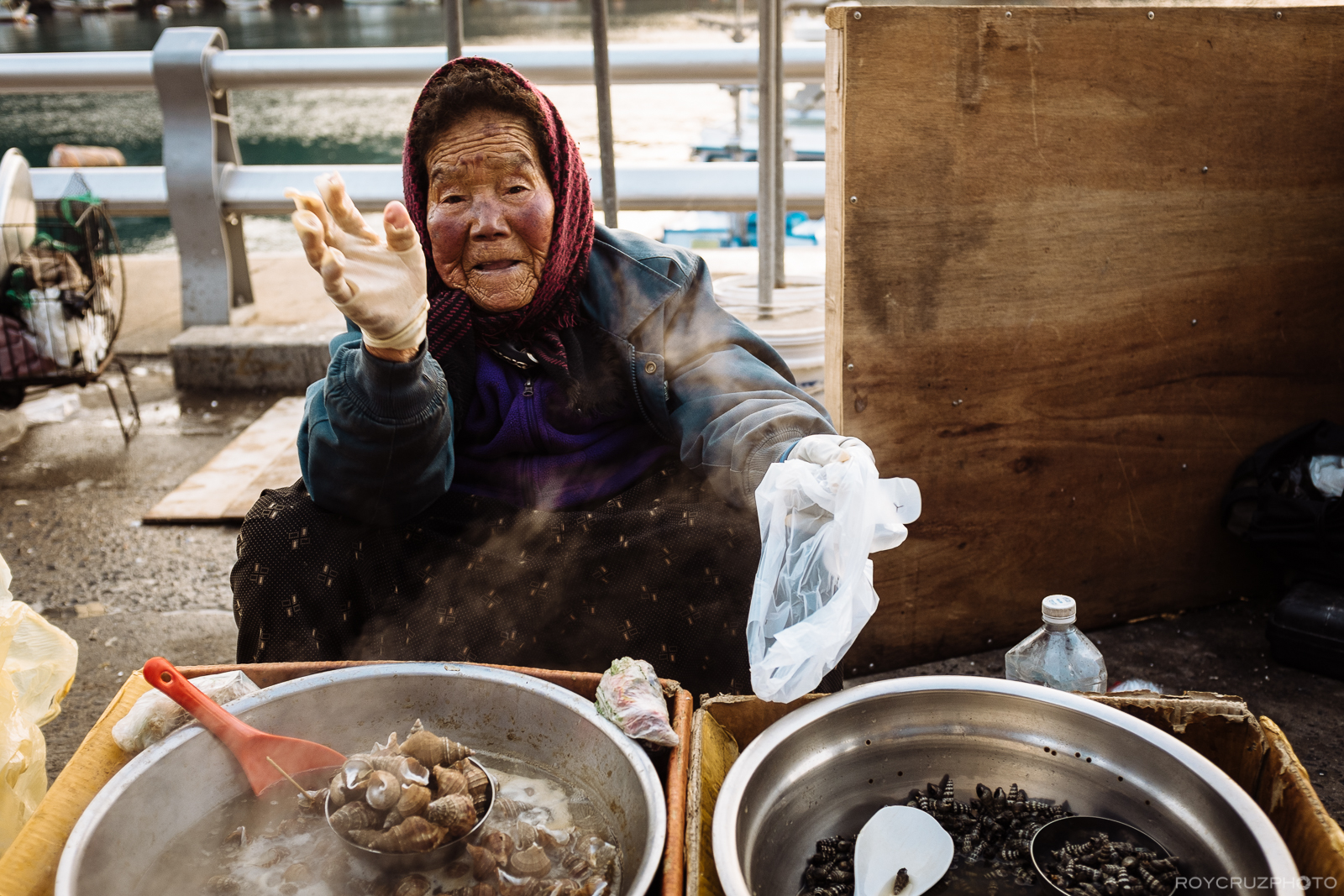 Some people just have a face that tells a thousand stories.  As I was walking down from Windy Hill after taking the previous photo, I saw this street vendor.  Her face was weathered from days spent out in the sun, catching and selling sea snails to visitors.  I took this photo as she was getting my order of sea snails ready.  They were delicious, by the way.
"Shellfishing in the Harbor"
Tongyeong, South Korea
Fujifilm X-E1 + XF 60mm f/2.4 Macro
f/5.6, ISO 200, 1/1900 sec
Almost every morning on my way to work, I see shellfishermen in the Tongyeong Canal.  I love seeing them anchored in the harbor with their trademark poles doing their work.  On this particular morning, they were in a close formation, right where the sunlight was reflecting off the water.  The silhouettes of the towering shipbuilding cranes complemented theirs.  I waited for them all to stand up and get their poles into nice angles and took this photo.
"Low Tide Sunset"
Geoje Island, South Korea
Fujifilm X-E1 + Samyang 12mm f/2.0, Hitech Reverse Graduated ND
f/11, ISO 200, 1/6 sec
Sometimes, new gear can help a photographer get off their a** and shoot.  Spring rolled around and I got my hands on some new filters.  One of them was the Formatt-Hitech reverse graduated ND filter. It's basically a graduated ND that is dark along a central line and gets lighter toward the top of the filter.  That makes it perfect for sunsets on straight horizons, just like this one. For this photo, I went back to one of my favorite spots in Geoje: Seongpo-hang, Sadeung-Myeon (성포항). The tide was low, so I climbed down under the boardwalk and saw this raft tied to a floating fishing platform.  The soft backlighting showed off the texture of the rocks and algae and the colors of the sky really came out thanks to the filter.
"The Sunset Man"
Chilcheondo, Geoje Island, South Korea
Fujifilm X-E1 + Samyang 12mm f/2.0, Cokin P173 Varicolor Polarizer + Hitech Graduated ND
f/8, ISO 400, 1/25 sec
It pays to have photographer friends nearby.  On this day, my friend Joshua Herrin invited me to go shoot on Chilcheondo after work.  The sky was amazing and Joshua found a great location.  It was a perfect opportunity to use my new Cokin P173 Varicolor Blue/Yellow Polarizer.  This filter adds a blue and yellow hue to the image as you rotate it.  I've found that it's really great for seascapes and enhancing sunsets.  I coupled it with a Formatt Hitech Graduated ND to bring out more texture in the sky.  I really liked the rocks, rope, and branches in the foreground.  I was pretty happy with just the sunset, but when Josh came around the bend and stood on the rock, I felt like the image was complete.
"Walking Home From School"
Tongyeong, South Korea
Fujifilm X100S
f/2.8, ISO 6400, 1/55 sec
Tongyeong Undersea Tunnel (통영 해저턴널) is one of my favorite places to take a walk.  It also makes for great silhouette photos.  This is a photo of some high school boys walking through the tunnel late at night after a long day at school.  I like the fact that you can still see their uniforms and backpacks despite the use of silhouette.  Their position and gesture, as well as the texture and shadows cast by the tunnel light make this photo.  Top it off with some Korean style neon lights, and the image is complete. Actually, his photo almost never saw the light of day.  I had forgotten all about it and stumbled across it again while looking through my catalog.  Always be on the look out for overlooked gems on your hard drive.
"Tongyeong Lighthouse Sunset"
Tongyeong, South Korea
Fujifilm X-E1 + Samyang 12mm f/2.0
f/11, ISO 200, 3.1 seconds
One of the advantages of shooting a lot in your own town is that you'll know exactly where to go when conditions are good.  That was the case on this day.  There were some great clouds in the sky and the water was very calm.  So I went over to my favorite lighthouse in Pyeongrim-dong, Tongyeong (통영 평림동) and used these conditions to my advantage.  My exposure didn't have to be long at all, since the water was so calm.  This helped keep the textures in the clouds and the reflection while allowing for a little bit of motion.
"Now You See Me"
Geoje Island, South Korea
Fujifilm X-E1 + Samyang 12mm f/2.0, Cokin P173 Varicolor Polarizer, Haida 10-stop ND
f/5.6, ISO 1250, 27 seconds
Even though you shoot a place over and over again, you're bound to discover new locations.  I came across this area next to the bridge between Tongyeong and Geoje during low tide.  Usually underwater, these pillars were clearly visible that day.  I walked about 50 meters over squishy mud to get to them.  Keeping my tripod low to make the pillars taller in the frame, I put on the Cokin P173 blue and yellow polarizer (thanks by the way to my friend John Steele for introducing me to the world of color-enhancing polarizers).  I also used my new Haida 10-stop ND filter, which is awesome but sometimes overkill (as you can see in my settings).  So I'd rather recommend the 6-stop version.  I partially hid the sun behind a pillar to control the flare.  I added a little Orton Effect in post to make the dreamy feel.
"Sunset After the Storm"
Geoje Island, South Korea
Fujifilm X-E1 + Samyang 12mm f/2.0 (9-frame panorama)
f/8, ISO 400, 1.7 seconds
Number 10 in our list is an image taken after a summer storm.  The clouds were, dare I say, "epic" and it took a while for me to figure out how to do them justice.  After leaving my first location on this shoot, I came across a little dock with a few boats.  I sat right on the corner of the dock with my feet almost touching the water and found my shot between two fishing boats.  A single photo was not enough to capture the grandeur of the clouds, so I decided to use a panorama.  I turned the camera into portrait orientation using my recently purchased and yet unused L-plate to mount the camera vertically onto my tripod.  I don't know the equivalent measurement, but a panorama with a 12mm lens in portrait orientation will let you show a lot more of the sky without too much crazy distortion.  The plate made it easy to pan the ballhead while keeping the camera level.  After shooting the photo, I stayed for a while, staring at the majestic storm clouds until the sun went down.  This was probably my favorite shooting experiences of the year.

Conclusion
So that ends my top 10 images of 2015.  I hope you enjoyed it.  You'll notice that most of the images were taken in my home and work area of Tongyeong and Geoje.  I did do a bit of traveling last year, but the photos I took nearby were the ones that really stood out.  There is definitely something to be said about shooting a location over and over.  Traveling is great, but knowing a place very well and shooting like a local also has its merits.
2016 is here.  I hope you all have a wonderful year ahead!  See you in my next blog post!
*This post includes some affiliate links to products I used to create the photos.  Clicking them and purchasing helps me out, but the product pages are also an easy way to show the gear being referred to.
---
---
You might also like