In the later part of last year, I set out to refresh some of my gear and put together a photography kit that would be both portable and capable for the type of photography that I like to do. I've been shooting my personal work exclusively with this kit for a couple of months now and I feel like I've had enough time with it and have made enough solid images to share the setup with you here.
Let's start with the wish list I had in mind when putting together the kit.
Wishlist:
Interchangeable lens body for versatility
Range of lenses for landscape, street, travel, food, and portraits
Fast, accurate AF
Weather sealed
Image stabilization
Dual card slots – for peace of mind and extended shooting if necessary
Capable for video as well
Compact, discreet, and light
Easy, instant access to the gear
Take note that this is a wishlist of ideal features and while I have done my best to meet all the criteria on the list, some of the lenses don't quite meet all of them. But as new and better gear comes out and of course as my needs change, I'll keep updating the items.
That being said, let's get to the gear…
The Gear:
Fujifilm X-T4 – This is the current flagship Fuji X body. It has in-body image stabilization (IBIS), weather sealing, robust construction, Fuji signature dials and ergonomics, and great battery life. The X-T4 also has the latest 26-megapixel X-Trans sensor and film simulations as well great video features. Of course, it is also quite light and compact for what it offers and it just ticks all the right boxes for me.
LENSES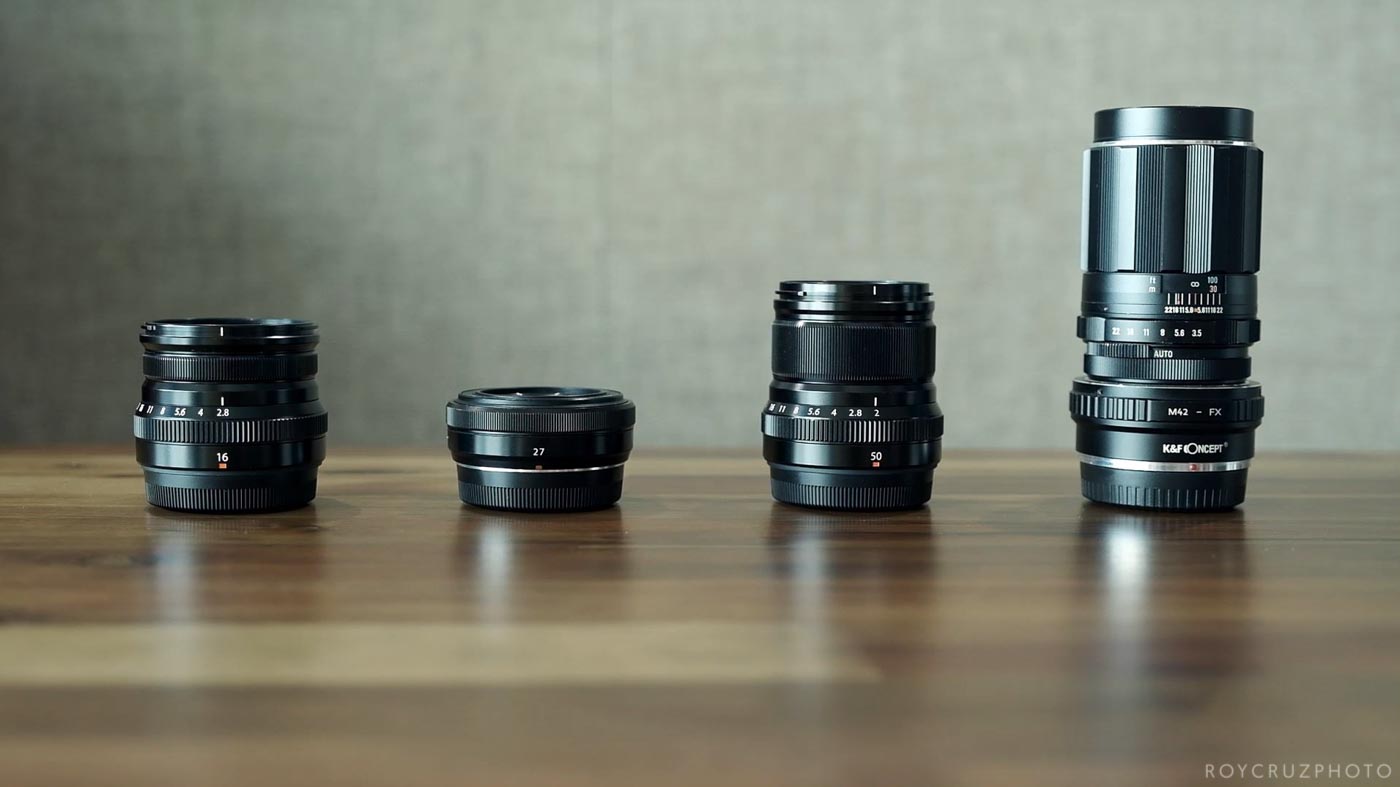 Fujinon XF 16mm f/2.8 WR – This lens is very small and light at 155 grams. It has a pretty fast aperture, fast, silent, and accurate AF, and is weather-sealed. It may not be quite as sharp as some of the high-end Fujinons, but it is very close and definitely sharp enough for my needs. The lens is wide enough at 24mm full-frame equivalent and it's great for landscapes and even street photography. It has replaced my beloved Samyang 12mm for the time being. The Samyang was my go-to ultra wide for several years and I've made lots of portfolio images with it, but I now feel like mixing it up a bit and changing my main focal length on the wide end. I also love the sun stars in this lens much more than the 6-pointed ones of the Samyang. I still love the Samyang, but this will be my everyday carry wide landscape lens for the meantime.
XF 16mm f/2.8 WR Sample images:

Fujinon XF 27mm f/2.8 – Discreet, tiny and super light at a mere 78 grams, this is my street and general purpose lens. I love the pancake form factor and the 40mm "perfect normal" angle of view. It's a bit tighter and has a different look from the more popular 23mm (35mm ff equivalent) focal length. Fairly fast at f/2.8 and pretty ok for low light. It is very sharp, even wide open. This lens has an older AF motor but is actually quite fast and accurate on the X-T4. I have the Version 1 of this lens, and the Version 2 was just announced with an aperture ring and weather sealing. The new version checks even more boxes on my wishlist and I'm definitely considering updating the kit when that comes out.
XF 27mm f/2.8 Sample Images:


Fujinon XF 50mm f/2.0 WR – This weather-sealed lens is great for portraits, food and products, as well as medium telephoto landscapes. The 75mm equivalent angle of view makes it very suitable for the said applications. The f/2.0 aperture is great in low light and offers a nice shallow depth of field when needed. This lens is tack-sharp even wide open. The AF is super fast and accurate even for tracking moving subjects. Best of all, it is very compact and weighs a mere 200 grams.
Xf 50mm f/2.0 WR Sample Images:


Asahi Pentax Super Takumar 135mm f/3.5 + M42 – FX Adapter – this is a lens that I put in the bag for more reach. I talked about it in my M42 video and I still carry it all the time because it offers something that Fuji hasn't created yet: a 200mm full-frame equivalent angle of view in this very compact and light form factor. It doesn't have AF, weather sealing, or a very fast aperture, but I mostly use it for telephoto landscapes anyway, so it's not really an issue. At 331 grams, it's no problem at all to have in the bag at all times.
Super-Takumar 135mm f/3.5 Sample Images:

With these 4 lenses, I can cover a focal range of 24mm – 200mm full-frame equivalent with a collective weight of less than 800 grams. Also, each lens is quite compact and relatively not intimidating when attached.
Other Items:
Sirui Traveler 5C – this ultra-light and compact carbon fiber tripod actually surprised me when it came in the mail because of how small it is. It may not give you as much height and may not be as stable in windy conditions as larger tripods, but it gets the job done most of the time. The lightweight and compact size when folded down will help ensure that you can easily have it with you at all times. At $99 USD, it's also quite affordable.
Peak Design Sling 10L – this bag is just the right size for this kit. The origami-style dividers are perfect for maximizing the space and keeping the body and all 4 lenses secure. The straps on the bottom hold the tripod securely while keeping it accessible at a moment's notice. The front, top, and internal compartments are perfect for memory cards, batteries, filters, Airpods, and (especially for these times) extra masks. When tightened, the bag stays securely on your body, leaving you free and flexible to move on whatever terrain. This bag definitely fulfills the task of carrying the items securely while providing instant access to all the gear.
Filters – I'm still using my trusty Cokin P-series kit, which is even more suitable for the small diameter of these lenses. Some of the ND filters have changed, such as the ICE optical glass filters (since my Haida shattered during a trip to Jeju ㅠㅠ), but everything is pretty much the same as I featured in the Cokin video. It still serves my needs nicely. I keep them in this case that just clips onto the bag when I need it. When I want to travel even lighter, I just bring a K&F concept 49mm 11-stop Variable ND filter. The small filter diameter of the lenses allows me to use a small filter.
Extra NP-W235 battery – just one is enough since the updated batteries perform so well. Gone are the days when you had to carry 4 batteries to last the whole trip. The built-in USB C charging on the X-T4 also makes it easier to top up on power.
ThinkTank SD Pixel Pocket Rocket to hold extra memory cards and business cards.
And in case I need to shoot video, I can easily throw in a shotgun mic or wireless lav.
Total weight of this setup is around 3.7 kg and it all packs down into a very manageable size, making for a very nimble kit.
And that is my current setup for travel and personal work. This kit was specifically designed to offer a balance of performance and portability for my preferred genres of landscape, travel, street, food, and portrait photography.
My professional kit for assignments (pictured below) is quite a bit larger with the Fuji red badge zooms and fast primes, but those serve a different purpose altogether. Quite honestly, I really wouldn't hesitate to take the smaller kit on assignment either because it can provide excellent image quality with little compromise. Overall, I have been very happy with this setup and it has proven to be a very capable kit that is easy to carry around.
I hope this post has been helpful and maybe it can help you when choosing gear for your travel kit. Thanks for reading and catch you in the next one!
Watch the video for this article here:
This post contains affiliate links that help showcase the gear and help me out at no additional cost to you. Thank you!
---
---
You might also like