It was a fairly ordinary Saturday morning in March. Spring was upon us and the weather was getting warmer. My wife and I decided to invite her parents out on a day trip to a location of their choice. After all, going out hasn't been easy since my father-in-law had a stroke a few years back. That's why we make it a point to take them out on occasional trips. Given his condition, my father-in-law would often decline and rather stay at home. But in the times that he would agree, the location of choice would be the memorable places of his younger days.
"I want to go to Namwon", he said this time around. "I've been dreaming of my childhood village all week and would like to go there." The request would be fairly easy to fulfill, or so we thought. The town of Namwon is only a couple of hours drive from our home in Tongyeong and we could get there easily. Problem was, he had not been back in several decades. He could not provide an address, not even a street name. "Just go to 화정리 (Hwajeong-ri)", he said adamantly. While "ri" technically means "village" in Korean, it is actually a pretty large administrative division that can have several villages within. Despite the vague directions, we obediently plugged 화정리 into the navigation and hoped for the best.
"This is not it. This is not it.", My father-in-law repeated over and over again as we drove along. My mother-in-law suggested that the place may have changed so much over the years that it's now unrecognizable. We randomly tried a couple more spots on the navigation. "This is not it, this is not it.", he said again. "Let's just go home." 
I didn't want to give up just yet, so I kept driving. Finally, there was a breakthrough. "Hwasandan Village… Sinjeong Village…", we began to read the stone landmarks of each small village we were passing by. My father-in-law's memory seemed to be jogged by the sights as well. "한우물마을 (Hanwoomul Village)! That's it!" We turned onto a more narrow farm road. "This seems to be the right place, but it looks nothing like I remember it.", he said. I could sense a bit of disappointment in his voice. He started describing the area as he remembered it, and indeed it looked nothing like what we were seeing at the moment. "Forget it. Let's just go home.", he said again.
We had already come this far, so I suggested that we look for the village tree. Small farming villages in Korea often have a very large, very old tree in the center of town. It's a place for the villagers to converge and some would even view it as sacred, so it's likely to still be there. True enough, we were able to find the tree and the village.
My father-in-law jumped out of the car (as much as a man with a cane could) and immediately started talking to the old woman at the bus stop. "This is the right place", he called out to us. 
He lingered for a while, just taking in the scene. He's never been one for expressing his feelings, but you could sense that he was happy to be there.
He is also not one to walk too far given his condition. But today, he had a spring in his step. We were soon exploring the various streets and alleys around the village, and we even found where his old house used to be.
True enough, some of the older folks we encountered along the way recognized my father-in-law and they stopped to chat. Exchanging warm greetings, they asked about each other's family members and where they had gone to over the years. It was a heartwarming scene, and of course, I was shooting photos the whole time.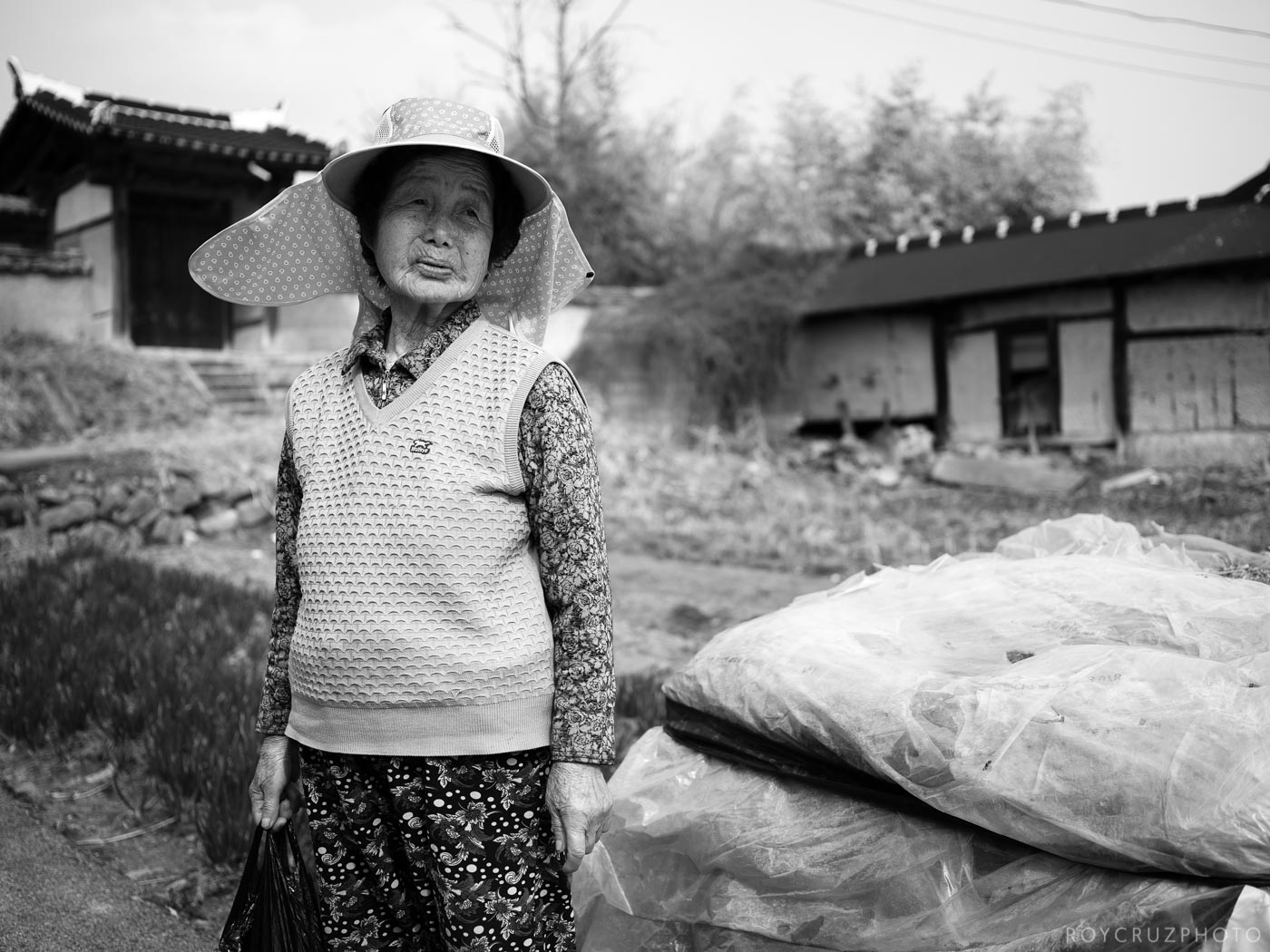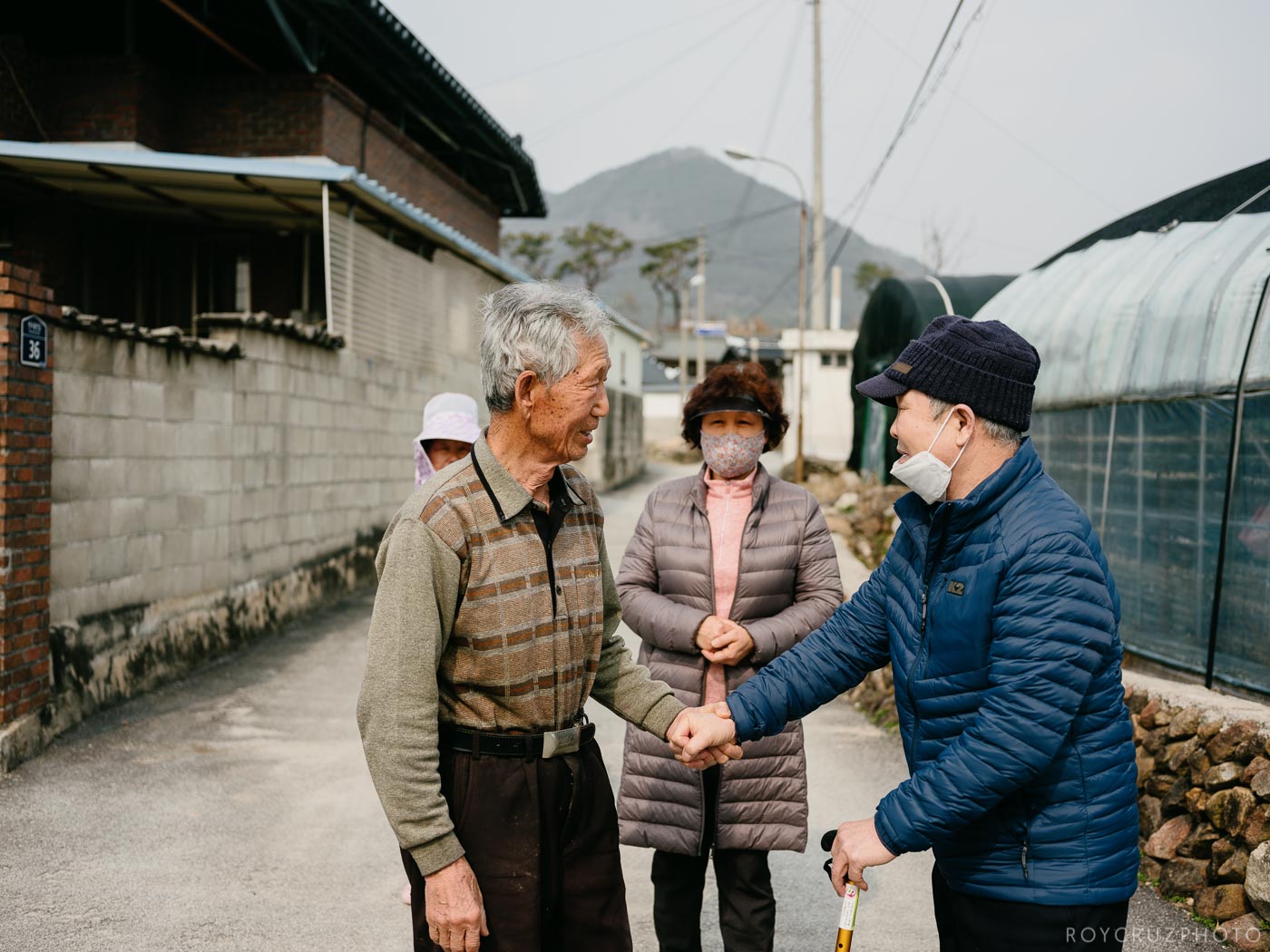 It was a brief, but very meaningful visit to my father-in-law's childhood village. That evening when we had gone home, I received a text message from my mother-in-law saying that her husband was still talking about it. I'm glad we were able to be a part of this special day and that we have photos to remember it by.


Photographer's Notes:
For this shoot, I used a Fujifilm GFX 50R and Fujinon GF 50mm f/3.5 lens. I have had this gear for a couple of weeks at the time of writing and have thoroughly enjoyed it so far. This combination is an absolute joy to use for travel and documentary work. The GFX provides incredible image quality and lush image files that you can only get from a larger sensor. The 50mm (40mm full-frame equivalent focal length) is so versatile and has served me well as a one-lens solution. Having this powerful imaging capability in a relatively compact kit is quite addictive to be honest. More importantly, it's good to know that you have the ability to capture scenes and important moments in a quality that leaves very little to be desired.
This article contains affiliate links that showcase the gear and help me out at no additional cost to you. Thank you!
---
---
You might also like